Trust me: You're going to love this customized denim jacket. Denim makes a fabulous neutral backdrop for almost any sort of embellishment. As a result, the possibilities are endless. Using embroidery, iron-on patches, and applique touches, you can make this jacket exquisitely tailored to you. And it will become the perfect statement piece for your wardrobe.
For this version, I settled on a motivational saying across the back shoulder, an iron-on peony patch, and a pretty hand-embroidered floral design added to the front. But first, here is what you will need.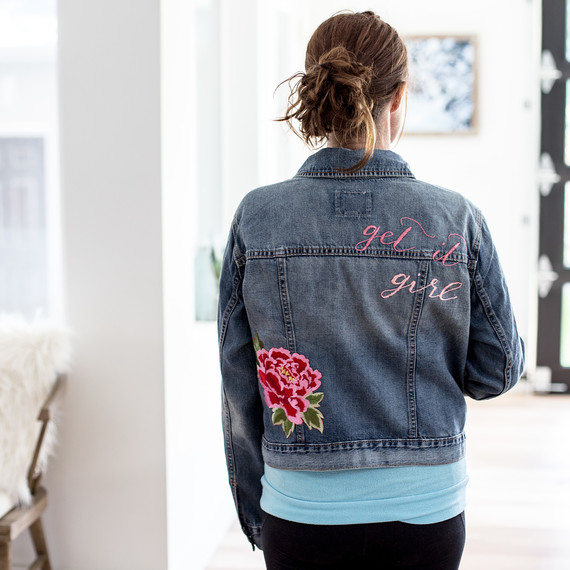 Materials:
Denim jacket
Applique iron on patch
Paper, printer, and font of choice
Embroidery thread (DMC Pearl Cotton 5 for letters and DMC six-strand 25 for flowers)
Needle
Thread
Scissors
DMC Embroidery Tracing Paper
Rose Embroidery Pattern
Air-soluble marking pen
Embroidered Words
First, I started by hand-embroidering "Get it, girl" across the back. Doing this by hand allows for flexibility in font choice. These words across the shoulder remind me to be brave and ask for what I want, but also just to get it done. I wanted my version of the jacket to be fun and funky, but simple and pretty too. I love having the unique script instead of the typical patch letters. Certainly, there are a lot of available patch letters if you want to go the fast route. I chose colors that complimented the jacket, but also matched the applique patch.
Steps
1. Using the desired font, print out saying in the desired size. Cut and place on the jacket.
2. Use embroidery tracing paper and a pen to transfer words to jacket. Put fabric down, then tracing carbon paper, then desired shape or word. Draw over shape or letters with a ballpoint pen to transfer the design to jacket.
3. The carbon tracing paper method lets you see it fairly well. However, the more intricate the design the more difficult it can be.
4. I like to go over my carbon transfer with an air-soluble marking pen, so I can see it as clearly as possible. Use the stem stitch for thin lines and the satin stitch to cover wider areas.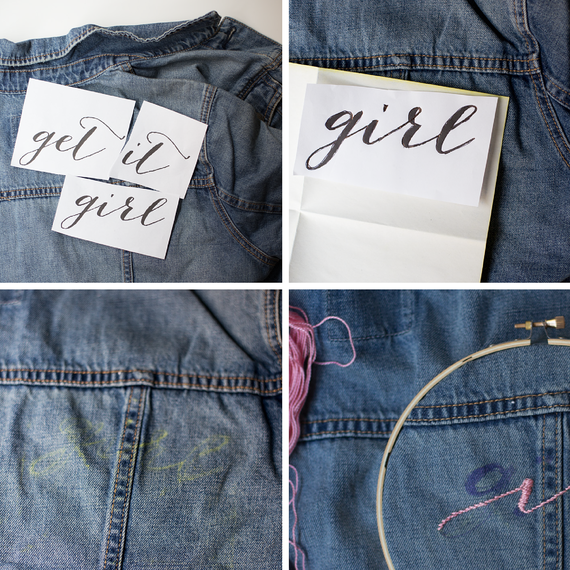 Iron On Floral Embroidery Patch
Next, I ironed the floral embroidery patch to the back. This was fantastically fast. So fast, in fact, that the entire jacket can be done in a half-hour or less if you stick to using patches. You can find lots of floral patches online. I liked these thistles too. Think about all the sports clubs, favorite characters, or symbols that you can find all over the Internet.
Steps
1. Place the patch in the desired location.
2. Position cotton pressing cloth between the patch and the iron.
3. Press down on the patch for 30 seconds without moving the iron. Try to cover the whole patch with one iron press. Otherwise, repeat until you have covered the entire patch with heat evenly. Turn your fabric over and repeat from the other side of the fabric.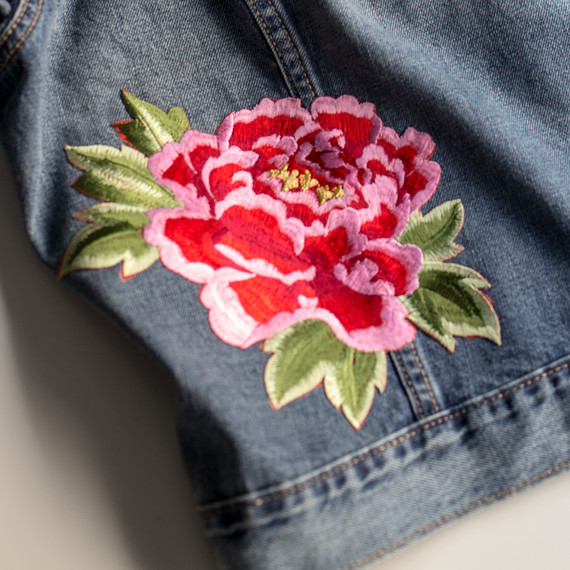 Floral Embroidery
Finally, I added hand-embroidered flowers. This sweet little floral design with "grow strong" compliments the large flower and saying in the back, but on a smaller scale. The color scheme is the same, but the detail of this embroidery seems like just the thing to finish off the jacket.
First, to embroider stems: Use two strands of DMC 25 (it comes with six strands in the floss) and stem stitch.
Then, to embroider leaves: Embroider with two strands of DMC 25 and the lazy daisy or detached chain stitch.
Next, to embroider buds: Use two strands of DMC 25 and the satin stitch to form the bud shape. Use green to wrap around the bottom of the bud with a straight stitch.
And then, to embroider open wild rose: Embroider with two strands of DMC 25 and the satin stitch in each petal. For the center, use a straight stitch and french knots.
Last, to embroider long stem roses: Use the full 6 strands of DMC 25, and make overlapping straight stitches in a circle shape.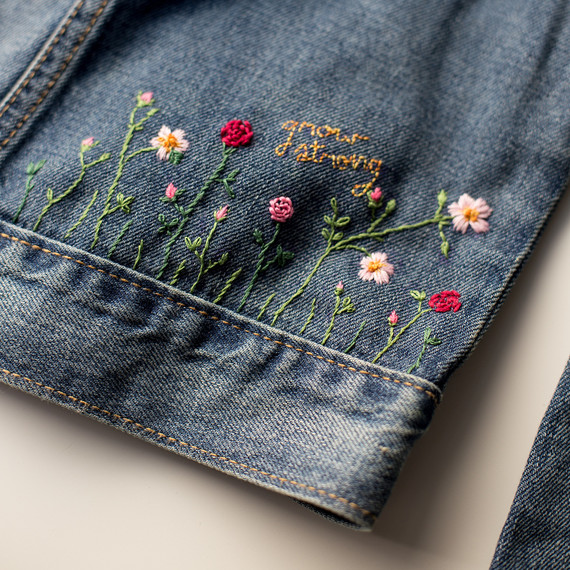 Try each of these techniques, or mix and match as you like. Either way, it's bound to become your favorite new item. Enjoy your new favorite jacket!
We are a garment accessories manufacturer in China. Our main products are hotfix rhinestone motif, laser cutting hotfix transfer, vacuum forming motif and silicon glue patch with metal claw base acrylic stone. Welcome to visit our website or Alibaba Store!
Contact Us
AA-STAR GARMENT ACCESSORIES COMPANY LIMITED
NAME: Winnie
TEL: 0086-20-34272046
MOB: 0086-18565507308
Whatsapp:0086-18565507308
Wechat:18565507308
ADD: 4/6 Building Heng Mei Industrial Park, Dashi, Panyu District, Guangzhou, China – 511400
IF YOU WANT MORE INFORMATION, PLEASE SEND ENQUIRY.